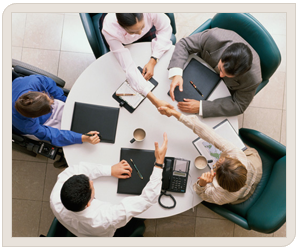 We wish to present to Your kind consideration the company "
STUDIO I.C.R. Ltd.
" Investigations & Confidential Consulting, which is able to serve fiduciary services in the field of the security consultings and private investigations.
The company was born in 1989 thanks to its majority shareholder and Managing Director - Mr. Franco Scialdone -, who put on the hands of the same the acquired experiences by him in the course of his previous working activity in a leader security company and during the international travels, works and seminaries to which he attended.
Thus was born the
STUDIO I.C.R.
which mainly provides to its loyal Customers:
INVESTIGATION CONSULTING;
SECURITY CONSULTING AND SERVICES;
TRAINING COURSES
The STUDIO I.C.R. always expresses its own activity, respecting these points:
CORRECTNESS - CONCRETENESS - CONFIDENTIALITY - LEGALITY
CORRECTNESS
being always correct, honest, toward the Client, not to sell what is not had and what well known that the possibilities to get it are very scarce; to faithfully bring the reality not that we know could make pleasure read or to feel.
CONCRETENESS
handle any assignment with the economy and utility, including working to get what they need with minimal cost to the Customer; just so the Customer is satisfied and therefore loyal.
CONFIDENTIALITY
although banal in its appearance, Never divulge information, even anonymously, is the basis of professionalism of anyone wishing to operate within the fiduciary services.
LEGALITY
to work in the respect of the laws: Police Laws - Criminal Code - Criminal Code Procedures – Privacy Law. Only so, a service is really given to the Client. Our agents are all reported to the Police Department as required by law; our confidential reports are always on business paper and signed by us and always accompanied by a regular invoice. Only so our Clients can use our investigative report.